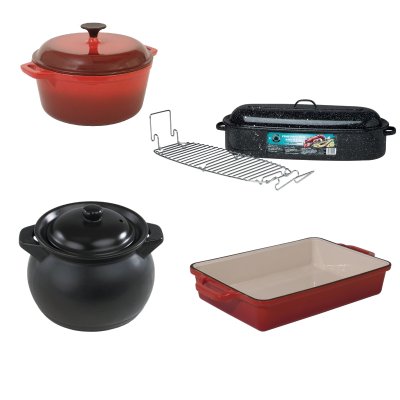 Pyrex storage containers. Food Storage...Make the switch to glass from plastic. Easy to clean. Will not stain or keep odors. Healthy.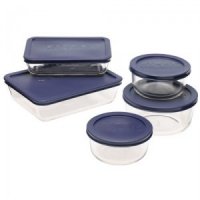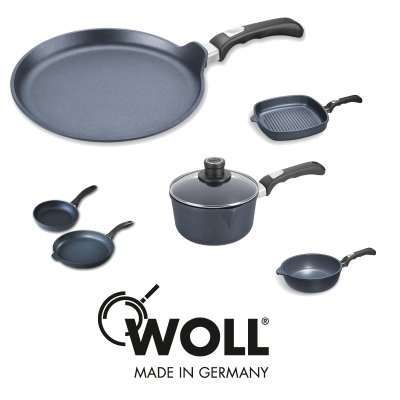 Woll Cookware Made in Germany. Beautifully crafted pans with a special technology which uses diamond crystals to create an ultra-hard coating applied to the approximately 10-mm-thick pan body. This pan possesses outstanding non-stick properties, is extremely resistant to cuts and scratches and offers first-rate heat distribution. Pressure cast aluminum body manufactured in the newest state of the art automated factory in Europe.


Dishwasher safe
Oven safe to 500 degrees
Metal Utensil safe
No PFOA
Limited lifetime warranty
Welcome to China Fair Inc
Now Hiring Full and Part Time Positions
New Delivery of Great Items ! Slow cooking and poaching are the way to go for great flavor and healthy meals. Heavy Enamel on Cast Iron Dutch ovens are great for stews and no knead breads. From Joyce Chen an Asian style Stoneware Chinese Crock Pot to inspire your menu. In enamel, an oversize poacher will easily take a whole fish along with vegetables. We also just received a heavy enamel on cast iron deep lasagna baker, perfect for all your casserole recipes.
One stop shopping.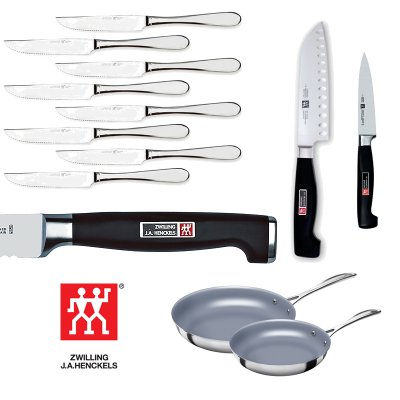 Zwilling J.A. Henckels Products. Steak knife sets. The all new Spirit line of PFOA and PTFE free ceramic non-stick on TRI PLY stainless cookware. CLOSE OUT of 4 STAR Knives..prices too low to advertise.
We have been receiving a huge selection of great products. 24" Fish Poachers $29.99. 2 tier Bamboo steamers in 3 sizes... Heavy commercial steel roasting pans... By popular demand, knot bamboo skewers!
Wusthof Pro series knives. Designed for commercial kitchens. NSF approved with soft no slip santoprene handle. Made in Solingen Germany . Amazing pricing... example $5.99 paring knives and $29.99 for 8 inch chef knives.
New Line of Restaurant grade lead free Crystal glasses from Italy. Special introductory pricing starting at $2.50 per stem! save over 50% off retail of $6.00. Many sizes and shapes. Strong, elegant, and made in Italy. Great for the home, a Bistro, or Upscale Restaurants.
Sabatier Knives - Made in Thiers France, the original factory since 1834. NEW SHIPMENT! We have both Stainless and Hard to Find 100% CARBON. Click Here for Special Pricing for a limited time.
NEW !!!
Visit our new Restaurant Supply Page for Restaurants and caterers
Super Close Out of Kaiser Bakeware. The top name in baking, most pieces made in Germany. Muffin pans, Spring form pans, Bundform, tart pans and specailty shapes.
All at 40-70% off retails.
We stock thousands of items with a huge inventory ! Whether it is a gift idea or an entertainment need, we have you covered. Glassware, Dinnerware, Paper Goods, and more.
We offer you our exceptional products at great prices. Top quality cookware from All-Clad, Sitram, and Swiss Diamond among others. We feature bridal flatware from such brands as WMF, Ricci Argentieri, Oneida, Towle, and Dansk. Professional cutlery from Sabatier Thiers Issard of France, stainless and carbon steel blades, along with our very own Beck & Beck line of forged knives. We import these knives, made in Solingen Germany, and wholesale them direct to you. Finally, we offer our Chefs Specials along with an array of top quality cookware and cooking tools from Oxo, Microplane, Zyliss. And even more, all at clearance closeout pricing.